B 2018 16.2½HH (1.69M)
Frankel – Anna Salai (Dubawi)
Standing at Darley Japan
European Champion by an elite sire and from an exceptional family. Thrilling winner of the G1 Epsom Derby and the first to complete the Derby-King George double as a three-year-old since his own grandsire Galileo. The highest-rated son of Frankel to retire to Japan.
Pedigree
ADAYAR

FRANKEL

GALILEO

SADLER'S WELLS

NORTHERN DANCER

FAIRY BRIDGE

URBAN SEA

MISWAKI

ALLEGRETTA

KIND

DANEHILL

DANZIG

RAZYANA

RAINBOW LAKE

RAINBOW QUEST

ROCKFEST

ANNA SALAI

DUBAWI

DUBAI MILLENNIUM

SEEKING THE GOLD

COLORADO DANCER

ZOMARADAH

DEPLOY

JAWAHER

ANNA PALARIVA

CAERLEON

NIJINSKY

FORESEER

ANNA OF SAXONY

ELA-MANA-MOU

ANNA MATRUSHKA
By FRANKEL (2008) 2,000 Guineas (G1), Queen Anne S (G1), International S (G1), Champion S (G1), Queen Elizabeth II S (G1), etc. Sire of 947 foals aged three and up, including ADAYAR, CRACKSMAN, TRIPLE TIME, ALPINISTA, CALL THE WIND, CHALDEAN, CONVERGE, COURAGE MON AMI, DREAM CASTLE, GRENADIER GUARDS, HOMELESS SONGS, HUNGRY HEART, HURRICANE LANE, INSPIRAL, JANNAH ROSE, LOGICIAN, MCKULICK, MIRAGE DANCER, MOSTAHDAF, MOZU ASCOT, NASHWA, ONESTO, QUADRILATERAL, SNOW LANTERN, SOUL SISTER, SOUL STIRRING, VERACIOUS, WESTOVER, WILD BEAUTY, etc.
1st dam: ANNA SALAI by Dubawi. Winner (1600m) at 3, Prix de la Grotte (G3), 2nd Irish 1,000 Guineas (G1). Dam of 7 foals, 5 to race, 2 winners:
ADAYAR (c Frankel) Champion, see Race record.
MILITARY ORDER (c Frankel) 3 wins (1600m-2400m) at 2 and 3, 2023, Lingfield Derby Trial S.
2nd dam: ANNA PALARIVA by Caerleon. 2 wins (1600m) at 2, Prix d'Aumale (G3). Dam of 10 winners:
ADVICE (g Seeking The Gold) 5 wins at 3 to 5, Grand Prix de Compiegne, Prix de Saint-Patrick, 2nd La Coupe de Maisons-Laffitte (G3).
IGUAZU FALLS (g Pivotal) 7 wins, Surrey S, 3rd Al Fahidi Fort S (G2).
Anemometer (f Sunday Silence) Placed at 2. Dam of:
DUBAI GINA (f Dubai Destination) Sun Classique H, 2nd J&B Reser ve Stayers H (G2), 3rd Woolavington 2000 S (G1). Dam of: EMIRATE GINA (f Visionaire) Fillies Mile (G3); BYE BYE BOMBSHELL (f Duke Of Marmalade) East Cape Oaks.
Angel Falls (f Kingmambo) Unraced. Dam of:
NATIONAL DEFENSE (c Invincible Spirit) Champion two-year-old colt in France, Prix Jean-Luc Lagardere (G1). Sire.
3rd dam: ANNA OF SAXONY by Ela-Mana-Mou. 4 wins at 3 and 4, Park Hill S (G3), 2nd St Simon S (G3), Princess Royal S (G3). Dam of 6 winners:
ANNA AMALIA (f In The Wings) Winner at 3. Dam of:
AVE (f Danehill Dancer) Flower Bowl S (G1).
4th dam: Anna Matrushka by Mill Reef. Unraced. Dam of 11 winners:
POZARICA (c Rainbow Quest) Prix Hubert de Chaudenay (G2). Sire.
ANNABA (f In The Wings) Prix de Royallieu (G2).
ANTONYM (f Bahri) Grosser Preis der VGH Versicherungen. Grandam of: AMAZING GRACE (f Protectionist) Diana Trial (G2).
ANTIQUARY (f Polish Precedent) Winner at 3. Dam of:
SING UP ROCK (f Singspiel) 2 wins at 4. Dam of: GANKO (c Nakayama Festa) Nikkei Sho (G2), 3rd Nikkei Shinshun Hai (G2).
Anna Of Kiev (f Salse) Unplaced. Dam of:
ANNA MONDA (f Monsun) Champion three-year-old miler in Germany & Italy, Premio Vittorio di Capua (G1).
Accessories (f Singspiel) Unraced. Dam of:
HELMET (c Exceed And Excel) Caulfield Guineas (G1). Sire.
EPAULETTE (c Commands) Golden Rose S (G1). Sire.
PERICLES (g Street Boss) Tramway S (G2), 2nd Rosehill Guineas (G1).
Stud record
Adayar stands his first season in 2024.
Conformation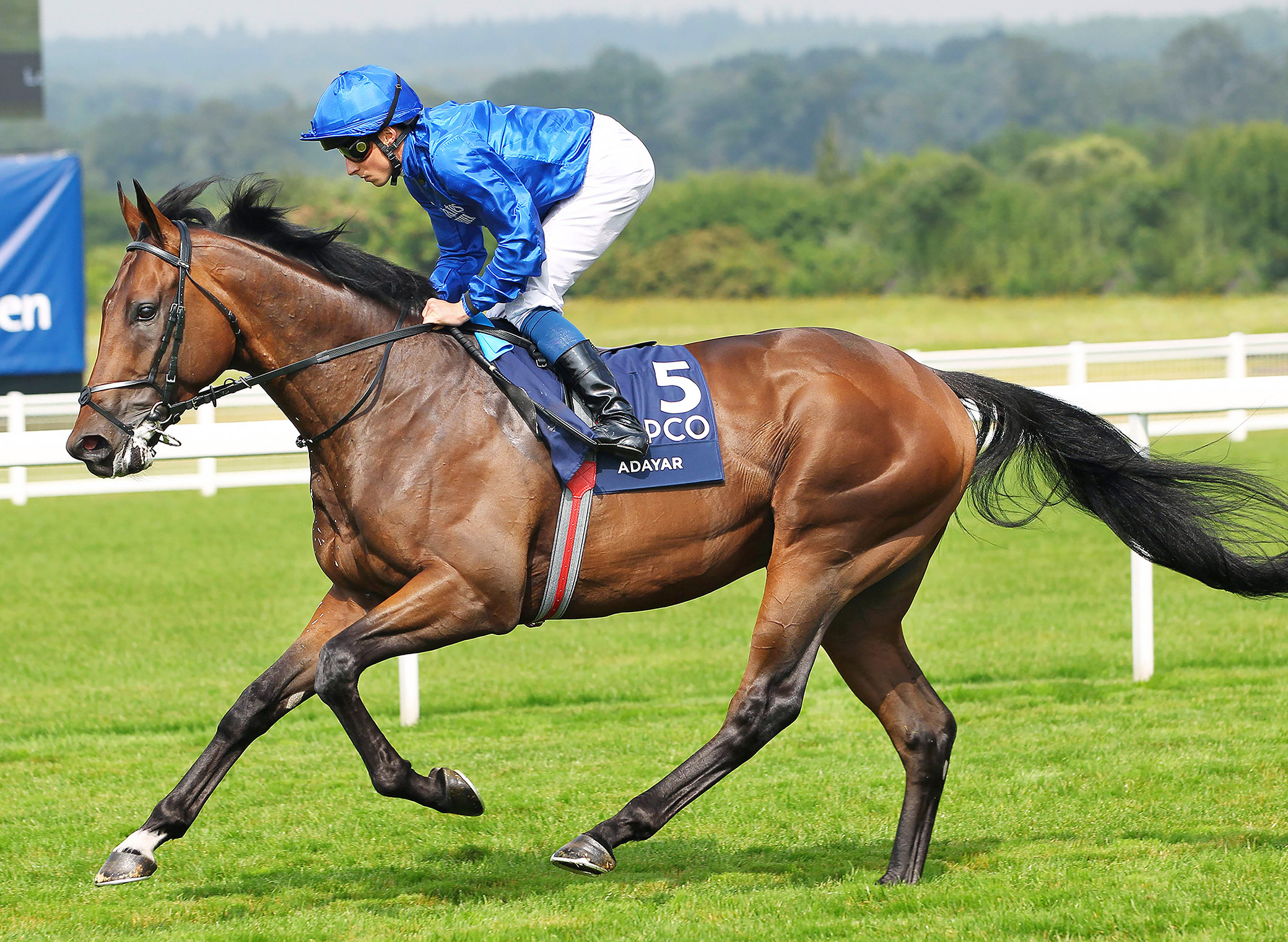 Race record
His successful career
| | | | | | |
| --- | --- | --- | --- | --- | --- |
| Age | Starts | 1st | 2nd | 3rd | 4th |
| Two | 2 | 1 | - | - | 1 |
| Three | 6 | 2 | 2 | - | 1 |
| Four | 2 | 1 | 1 | - | - |
| Five | 3 | 1 | 1 | 1 | - |
| Total | 13 | 5 | 4 | 1 | 2 |
At 2
1st

Maiden race, 1700m, Nottingham, by 9l.
At 3 Champion three-year-old colt in Europe
1st

Derby S (G1), 2400m, Epsom, by 4½l, beating Mojo Star, Hurricane Lane, Mac Swiney, Third Realm, One Ruler, Bolshoi Ballet, Youth Spirit, John Leeper, Gear Up.

1st

King George VI & Queen Elizabeth S (G1), 2400m, Ascot, beating Mishriff, Love, Broome, Lone Eagle.

2nd

Classic Trial (G3), 2000m, Sandown, to Alenquer, beating Yibir, Lone Eagle, Belloccio, Etonian, Sir Lucan, Recovery Run.

2nd

Derby Trial S, 2350m, Lingfield Park, to Third Realm, beating Scope, Kyprios, Recovery Run, Carlisle Bay.

4th

Prix de l'Arc de Triomphe (G1), 2400m, ParisLongchamp, to Torquator Tasso, Tarnawa, Hurricane Lane, beating Sealiway, Snowfall, Chrono Genesis, Bubble Gift, Alenquer, Mojo Star, Broome, Raabihah, Baby Rider, Deep Bond.
At 4
1st

Conditions race, 2050m, Doncaster, by 3¾l, beating Masekela, Dhahabi.

2nd

Champion S (G1), 2000m, Ascot, to Bay Bridge, beating My Prospero, Baaeed, Stone Age, Dubai Honour, Helvic Dream, Mac Swiney, Royal Champion.
At 5
1st

Gordon Richards S (G3), 2000m, Newmarket, by 2½l, beating Anmaat, Highland Avenue, Regal Reality.

2nd

Princess Of Wales's S (G2), 2400m, Newmarket, to Israr, beating Global Storm, Grand Alliance.

3rd

Prince Of Wales's S (G1), 2000m, Royal Ascot, to Mostahdaf, Luxembourg, beating My Prospero, Bay Bridge, Classic Causeway.
Timeform 131
Video footage
Watch him go:
see him at his best
Derby S (G1), 2400m, Epsom, 05 Jun 2021
King George VI & Queen Elizabeth S (G1), 2400m, Ascot, 24 Jul 2021
Gordon Richards Stakes (G3), 2000m, Newmarket, 07 May 2023
Maiden race, 1700m, Nottingham, 28 Oct 2020